My running training has been going really well.  I decided that I was going to do the Gold Coast half marathon just over 9 weeks ago.  Since then (Garmin says) I have run 296km.
I have been doing at least 3 runs a week.  If I can get to running squad, those sessions are 10km.  If I am running from home I will run anywhere from 5 to 10km at different levels of intensity.  Then on the weekends I do a long run. These started at 10km and slowly increased to 20km.
I have not run any further than 20km, ever.  On the day, it will be the first time I run a half marathon.
My goal is to complete it in under 2:15.  I think that it is achievable but it will just depend on what happens on the day.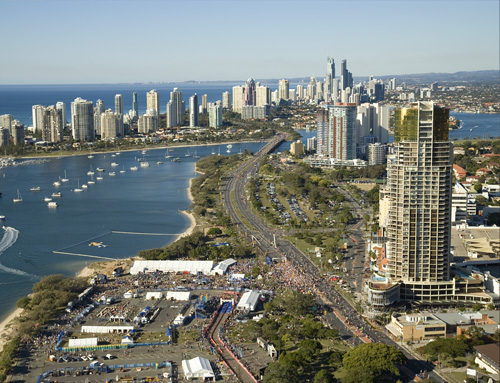 I am very fortunate to be running with two ironman friends.  One is very top bloke from work and my little Shiela.  Little Sheila (FYI I am known as big sheila) and I joined the Air Force together and was a bridesmaid at my wedding.  We see each other rarely but she is a very dear friend.
I am a little bit nervous about running with these two gods, but they have both said that they are there for me and it is my race to run.
Now with only a week to go and a lazy week of exercise ahead I can only hope that I have done enough.  I love the look of taper.
I am eating right (no junk) and trying to stay healthy (I have been consciously giving coughing and sneezing people a wide berth!). My calorie intake is a lot higher than normal.  My protein portions are larger and I am snacking on whole fruit and nuts often.
I grew up on the Gold Coast and the marathon is a huge event.  It is a flat course and really beautiful.
Maybe one day I will do the full marathon at the Gold Coast – I just have to get through Sunday first.  Wish me luck.